On September 22, Qingdao qianwan port area in shandong province port 81 berths, 2 m the spanish-american shipping vessels "maersk -" round, homework finished, the departure, at the same time, 83 berths "kindness" wheel will travel to the east port, just a few hours, from the southern port and Hong Kong, Singapore and other domestic and foreign regional goods turnover here, The dual-node hub of the Belt and Road initiative is fully demonstrated.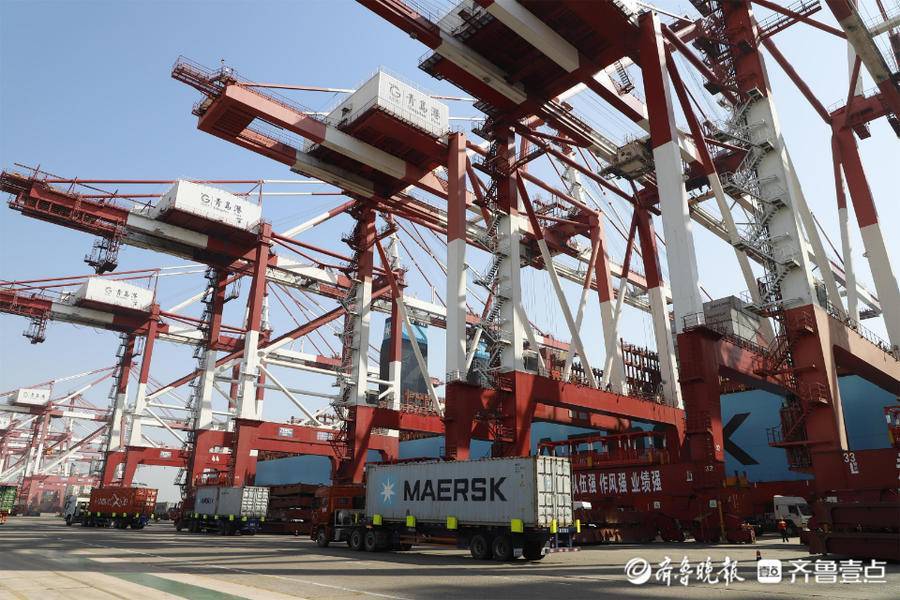 Since this year, benefiting from the greater of the reform and development of shandong port integration platform, a bigger stage, shandong Qingdao port based on service national development strategy, earnestly studies the container development, realize the comprehensive service ability to continue to improve, especially in such aspects as growth course, fruitful results, is heading towards the construction of northeast Asia international shipping hub at full speed.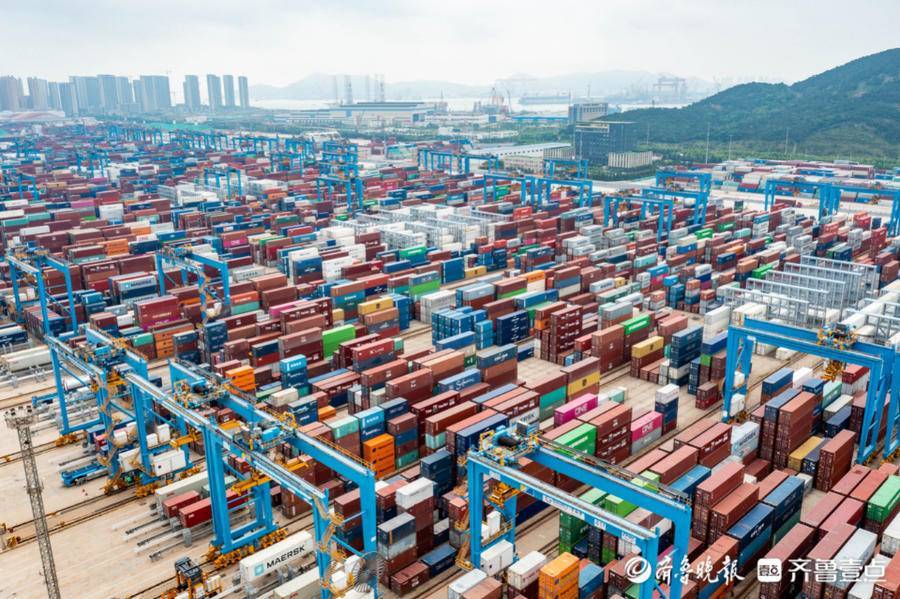 The largest number of routes added in the first eight months of this year was 20
On September 7, one of the world's largest container ships, the Mediterraneanera, docked at the QQCT wharf of Qingdao port in Shandong Province, loading and unloading a total of 25,233 TEUs (TEUs), setting a new record for the largest container operation of a single ship in China. Since September, the container terminal of Qingdao Port in Shandong province has been operating at full capacity, and it has become normal to have three very large container ships berthing at the same time every week. In the first 8 months, the terminal has operated 20,000 containers of large ships, totaling 96 times.
September 14 - on September 17, shandong Qingdao port in shandong port logistics group to visit Shanghai for maersk, cma CGM, 13 shipping companies such as Eva, actively promote the integration of development advantages, with the shipping company to discuss cooperation, is behind the steps of shandong port, Qingdao port brothers unit, hand in hand with new container business cooperation to promote the development of port and waterway, Strong desire to speed up the construction of northeast Asia international shipping hub center. During this visit, many shipping companies said that they would continue to layout new routes in Qingdao port.
This year is the first year of "difference", at the end of 2020, shandong ports during the "difference" planning research, the "dragon" as a development of shandong Qingdao port puts forward the development of the "four work" requirements, including the effort study construction of northeast Asia international shipping hub, in this process, is the key for the development of container cargo, And routes are the most important.
On the one hand, as the largest foreign trade port, port in shandong Qingdao port in response to the global flow of goods and all the way "area" new market changes continuously, relying on Japan and South Korea and southeast Asia routes advantages, continue to expand in Europe and the ocean line with Japan and South Korea, southeast Asia and other JinYang routes are transfer pattern, and deep into the shandong port integration development pattern, With the concerted efforts of other ports and plate groups, we continue to expand the inner feeder lines, forming a network of six inner feeder lines with Qingdao port as the center and connecting various ports in Shandong Province, realizing the daily operation of sea buses. From January to August this year, the amount of inner feeder transit boxes increased by 15% year-on-year, effectively enhancing the overall competitive strength of container business.
, on the other hand, focus on "to the domestic large cycle as the main body, domestic and international dual cycle promotes" new development pattern of shandong province port, Qingdao port depends on the integration of collaborative development advantage, with domestic trade development and imported consumer goods distribution center in the north, to make consumer goods express, attract more high-quality route layout.
The first eight months of the year, shandong port Qingdao port 20 new container lines, all-time high growth, route number and density ranks ports in north China the first place, the new airline's shipping company including CGM, wan hai, Korea, such as star, evergreen, oocl, fully embodies the ship companies in shandong province port, Qingdao port hub status recognition.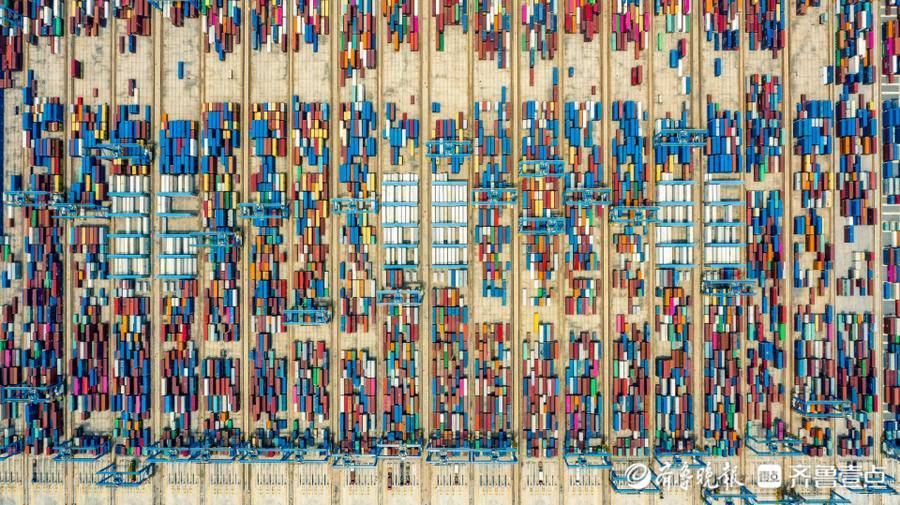 Famous shipping companies to expand routes and capacity
Building an international shipping hub in Northeast Asia at full speed
Since this year, Qingdao Port of Shandong province has taken advantage of shandong port integration reform, made every effort to respond to changes in the international shipping industry, continued to improve the comprehensive service capacity of the port, and moved at full speed toward the international shipping hub center of Northeast Asia. In the face of the strong demand from the markets of countries and regions along the belt and Road, a number of shipping companies operate southeast Asia Express routes in Qingdao port, transporting clothes, shoes, hats, electromechanical products and daily necessities from Shandong and the Yellow River basin to other countries. In the face of the booming maritime market, Qingdao Port, based on the "four commitments and eight guarantees", has continuously improved its service level and service efficiency, attracting world-famous shipping companies such as Mediterranean, Maersk and CMA CGM to send giant ships to port frequently for operation.
"Sea, increase route, expand cabin capacity, expand transit." In the container development path of Qingdao port in Shandong province, increasing shipping line and expanding cargo capacity are important directions. At present, "only peak season and super peak season" has become a new phenomenon in the international maritime market this year. In the hot maritime market, the phenomenon of "one cabin is hard to get" and "one box is hard to get" frequently occurs. Under this background, the upsizing of ships is increasingly becoming a trend.
The market development trend has become an important opportunity for Qingdao Port in Shandong province to build itself into the international shipping hub of Northeast Asia. In the first eight months, Qingdao's import and export to asean, EU and US, the top three trade markets, were 85.97 billion yuan, 66.01 billion yuan and 62.52 billion yuan respectively, up 61.8%, 24.8% and 39.4%, respectively. The flow of foreign trade import and export is consistent with the newly opened routes, among which as many as 7 are southeast Asian routes, 3 are Russian far East routes, and the rest include European routes, South Korean routes, east American routes, west American routes and India-Pakistan routes. The continuous development of Shandong and the region along the Yellow River basin promotes the consolidation of the hub port status.
At the same time, in response to market demand, shipping companies have changed ships and improved capacity. Before that, Eva Shipping's first 24000TEU-class A-type ship "Changfan" chose Qingdao Port in Shandong province for its maiden voyage, and after its maiden voyage, it entered the European boutique route. Zhang Jun, deputy general manager of Qingdao Port QQCT, shandong port, introduced, "From the current shipping market situation, there will be shipping companies to replace large ships. At the same time, for the featured lines with high demand growth in the shipping market this year, For example, Alibaba's 51%Express, CoSCO Shipping's Pendulum route between Europe and the United States and east, as well as other large shipping companies and freight companies charter ships to open temporary routes are all opportunities for Qingdao port."
It is understood that the production of the container terminal of Qingdao Port in Shandong is basically in a state of high growth. It has become normal to have three very large container ships berthing at the same time every week. In the first eight months, the number of QQCT ships operating with 20,000 containers has reached 96 times. Benefiting from a bigger platform and stage for the integrated development of Ports in Shandong, Qingdao Port will continue to board ships and open new lines in 2021, and container ships of 20,000 TEUS will be able to dock and depart regularly.

Container operation is the most efficient
Automated dock at 52.1 natural container/hour
He set his own world record for the seventh time
On August 19, in shandong province port, Qingdao port Dong Jia port D1 berth, "Orion" quietly nestled in the dock, with the remote operator issued automatic operation after a key to "start", alongside ship unloader into automatic operation mode, began to firmly grab materials, materials after belt process achieve the rear yard, back yard of material piling and taking machine start automatic stacking homework...... This is a smooth flow chart of automatic ship unloading operation of Qingdao Port, Shandong port, after the automatic operation function of ship unloading machine is realized. This year, through continuous research and debugging, Qingdao Port in Shandong province took the lead in realizing the automatic operation of ship unloader in the coastal ports of China.
In addition to the transformation of the traditional terminal hardware facilities, Shandong Port Qingdao Port has also continuously digitized the terminal operating system, independently developed and implemented the production management system of a new generation of container terminals, dry bulk terminals and general cargo terminals to promote multi-party information interaction between customs, terminals, inspection zones and agents. Innovative application of intelligent unmanned gate booking, ID card picking and other modes of innovation, the launch of the "water and water transfer" platform, customs clearance business processing time from the original 1.5 days to 5 minutes, Qingdao port average time to shorten 20%, reduce over 40% rate.
Opportunities, also reversed transmission port in shandong Qingdao port continuously improve service level and service efficiency, shandong port Qingdao port with shandong port "three satisfaction" "three more" service concept, strictly implement the container liner "four commitment, the eight security" service request, give full play to the "big port, big yard, equipment" operation service advantages, We will do our best to provide the best service for shipping companies and build northeast Asia into an international shipping hub with more competitive strength.
On August 24, shandong port, Qingdao port automation terminal at the seventh time 52.1 natural box/hour break the world record for the created by themselves, and more and more be favorred by the ship company, relying on automation terminal innovation advantage, traditional accelerate the reform of automated container terminal, through half automation of the transformation and upgrade of bridge cranes, etc., greatly reduces the labor intensity of operators, More ensure the efficient and smooth operation of the whole road.
In addition to full time in port operation link, through with the customs, maritime, such as strengthening docking, joint business model innovation to the whole port through greatly improve efficiency, such as in the case of epidemic normalized, hand in hand with the customs process optimization, further reducing temperature, nucleic acid detection time (each ships than the original short 3-5 hours). The "District, Customs and Hong Kong Joint Research Center" launched the 7*24 hour inspection mode, providing great convenience to customers; In 2020, Qingdao Port became more mature in the world's first "hot docking" operation mode. From January to August this year, 286 groups of hot docking vessels were operated, saving 379.94 hours for ships entering and leaving the port.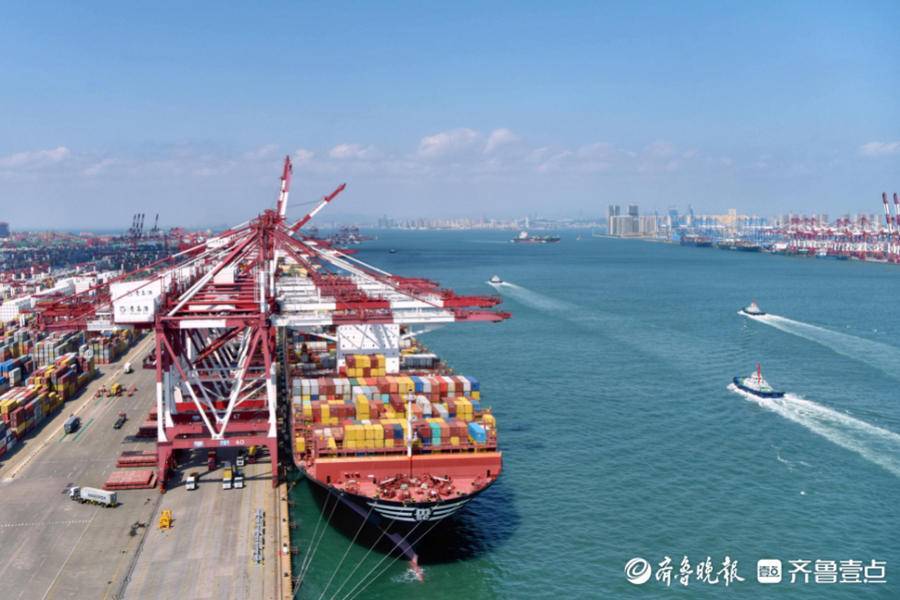 Development requires high-quality development
Qingdao Port smart green Port construction press the "fast forward button"
In the front of qianwan Port area of Qingdao Port in Shandong Province, no. 19 bridge crane is in tense and orderly production. At the same time, 56 photovoltaic panels totaling 92 square meters at the top of the 40-meter-high machine room are continuously absorbing light energy to provide auxiliary power for the quayside air conditioning, fans and other facilities.
"The tile in the room is our photovoltaic system. The annual power generation of this device is about 18,000 KWH, saving about 30,000 yuan in electricity." Liu Guangliang, the bridge crane team leader, told reporters that this photovoltaic power generation system alone can reduce carbon dioxide emissions of 16.7 tons per year, saving 7 tons of standard coal, equivalent to planting 700 trees.
Qingdao Port is committed to building a green port and was awarded the honorary title of national "Green Port" as early as 2016. Nowadays, with the introduction of the concept of "double carbon", Qingdao Port in Shandong province has become an inevitable choice for its future development to realize a green port with high efficiency, energy saving, low carbon and environmental protection and sustainable development.
In order to gradually achieve the decarburization, shandong port, Qingdao port first obtains from the top-level design, preparation of group "" carbon peak, carbon neutral" implementation plan ", the "carbon peak, carbon neutral" action plan for three years, further defined to decarbonise tmax node, implementation path, combing the key task list, regularly scheduled propulsion, efforts to promote port decarburization.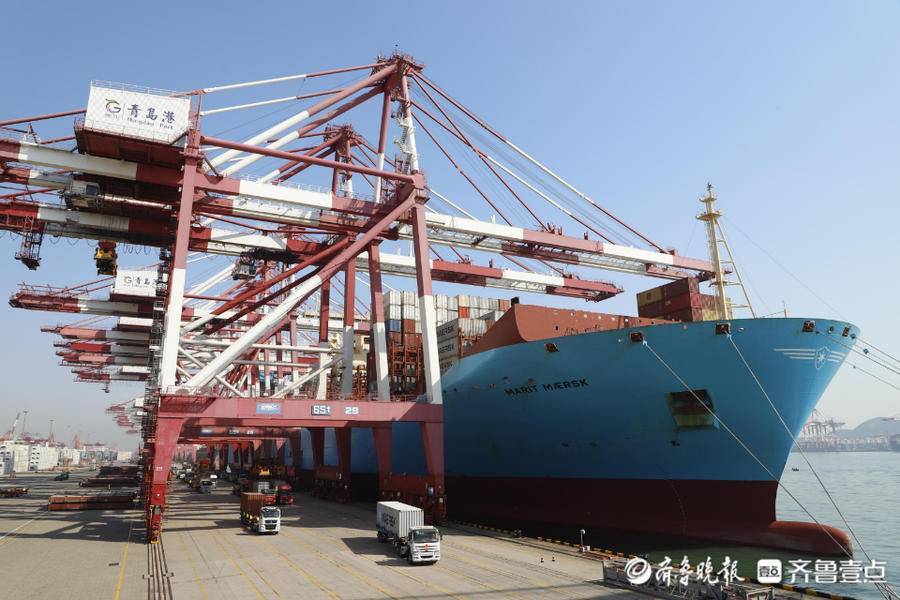 Qingdao port, on the other hand, actively carry out port status quo analysis, change the energy structure, fully excavating photovoltaic power generation potential, the introduction of photovoltaic, wind power and other new energy technology, research on warehouse, canopy roof photovoltaic transformation, promote the installation of photovoltaic power generation equipment, photovoltaic power generating capacity of 1 million kilowatt-hours in Hong Kong, in fluctuation full time is to carry out the transformation of energy and clean energy use.
Under the vigorous optimization of Qingdao Port, the de-carbonization feature of the port's energy structure is becoming increasingly significant, and the proportion of wind power, photovoltaic and other non-fossil energy in the total power generation is constantly increasing, which directly reduces carbon emissions from the root, and also lays a foundation for realizing the healthy and sustainable development of the port and accelerating the building of an international leading smart green port.
Smart port and green port are the inevitable path for Shandong to accelerate the construction of strong ocean province, and also a strong hand for the sustainable development of ports. In the construction of transportation power, Shandong province is the first batch of pilot provinces, and shandong port is the only pilot unit of smart port. Qingdao Port, as a leading port in Shandong province, has put forward new requirements for port development in the new era, actively seized opportunities, and pressed the "fast forward button" to speed up the construction of smart green port with practical actions to become the "leading" in the construction of smart green port. Port integration is not only a fist, but also a powerful fist. At present, Qingdao Port has set up a special class of Northeast Asia International Shipping Hub Center, which specializes in studying the elements and driving direction of hub center, and taking advantage of the trend of integrated development, Qingdao port is the center of Northeast Asia international shipping Hub center.